Over 5 Million Americans Are Still in a Negative Equity Position
03/23/2015 11:46 AM (CST)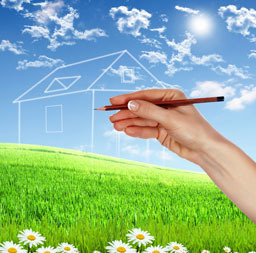 Spring in real estate usually equals hope, especially in the snowy parts of the United States. And there's some hope in the market, no doubt about it. Rising prices in 2014 brought more than 1 million borrowers into a positive equity position. At the same time, some 5.4 million homes, or 10.4 percent of all homes with a mortgage, were still in a negative equity position, or "underwater," in the fourth quarter of 2014, according to CoreLogic, as their owners owe more on the mortgage than the home is currently worth. This is down considerably -18.9 percent, from a year ago-but it still keeps these borrowers from putting their homes on the market, because they would lose money.
Additionally, of the 49.9 million U.S. homes with a mortgage, approximately 10 million (20 percent) have less than 20 percent equity, and 1.4 million have less than 5 percent, according to CoreLogic. These homeowners also would have a difficult time selling because not only would they lose money in the process, but they also might not qualify for a new mortgage.
"Negative equity continued to be a serious issue for the housing market and the U.S. economy," said Anand Nallathambi, president and CEO of CoreLogic. "We expect the situation to improve over the course of 2015."
Improvement will come with higher home prices. The problem, however, will take considerable time to work through and will continue to affect not only housing supply, but also consumer spending overall.
Adding to the issue is that the bulk of negative equity is concentrated at the lower end of the housing market. Owners of less expensive homes are three times more likely to be underwater than owners of expensive homes, according to a recent note by economists at Deutsche Bank.
These less expensive homes are where supply is lacking most. Builders are concentrating on higher-end homes, because that's where they can get the margin they need. First-time homebuyer demand is growing, but lower-priced homes are just not there for the buying.
If you are a real estate professional and especially if you're in Florida or the Midwest, the easiest way to diversify your listings portfolio is still short sales.
RealtyProx and our sister Company, National Closing Center, have simplified the short sale process. RealtyProx provides free web-based platform to make sure nothing gets lost in translation while National Closing Center takes care of short sale processing an transaction coordination.
Our in-house staff of experienced short sale processors works directly with lenders to effectively and efficiently speed up the short sale approval process.

We free up your time so you can focus on servicing clients and focus on high-payoff activities, like getting more listings!