New and Improved RealtyProx
09/18/2013 08:41 AM (CST)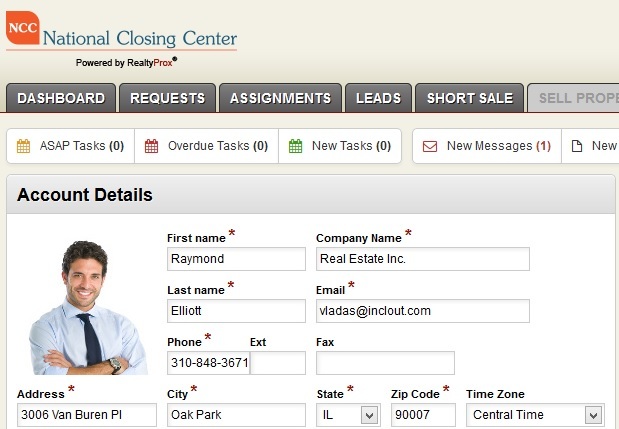 Surely, you've noticed some changes lately: our website has changed and so did the actual
platform. Although we did hit a few bumps down the road (that nasty server crash…) RealtyProx is now stronger (and more secure) than ever, offering free transaction management platform, short sale processing services, and educational webinars.
When other real estate transaction management platforms are eliminating short sale modules, RealtyProx is strongly committed to supporting real estate professionals (brokers, agents, attorneys, and short sale processing companies alike) who continue helping distressed homeowners and their own businesses by working with short sales. Currently, RealtyProx is the only free enterprise-level short sale processing software.
Let's take a look at some of the additions and improvements.
First of all, the updated home page features separate logins for each role supported by the platform (real estate agent, attorney, investor, short sale processing company, and title company). This allows us to continue with customization of each account type, so there are no redundant or otherwise unnecessary features.
On the home page, we've introduced a couple of new pages as well. All the webinars that we offer are now listed under Webinars and Trainings, while all the webinar replays and other videos are located in Videos.
The newest update is a big step towards introducing the traditional (equity) sales management module. RealtyProx now features electronic signature functionality, which is going to be irreplaceable in traditional sales management. Even in the short sales module, eSignature is the most convenient way of obtaining signatures from homeowners on time-sensitive documents, such as authorizations to release information.
The updated short sale management platform is a lot more tablet friendly. We've expanded the size of tabs and fields, so it's easier to click and type from a tablet or even a mobile device.
We've also made changes to the account management (more flexibility, including an option to add your photo, bio, and designations) and short sale submission modules. A listing agent is able to submit a short sale to National Closing Center in 5 easy steps, each of them is clearly described under the Quick Help section.
In addition, we've expanded the Quick Help section with 'how to' videos coming soon.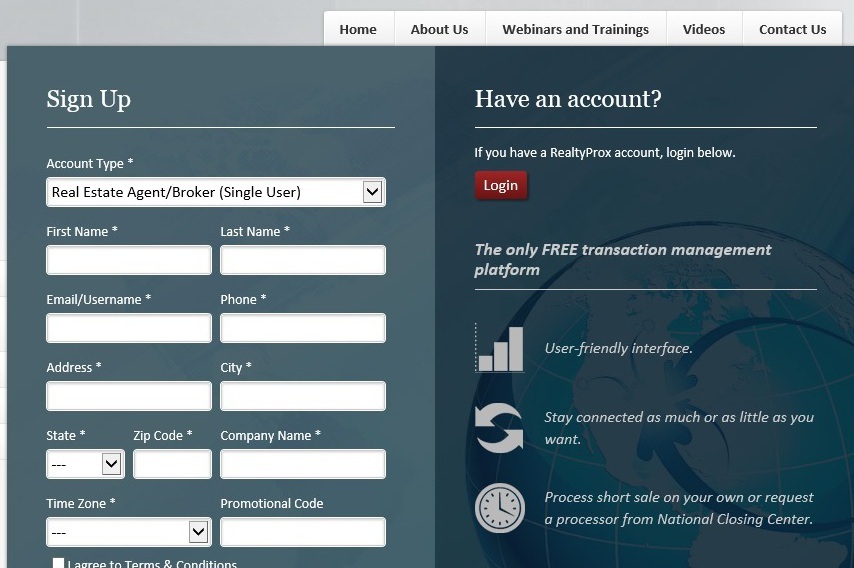 There numerous other additions and improvements. If you don't have a RealtyProx account, go to http://realtyprox.com/real-estate-agents/register/ and register. It's free. No credit card required and no lengthy forms to fill out. If you're a registered user, revisit your account and take a look at our makeover.
While you're on the website, pick your next webinar! Go to http://realtyprox.com/webinars/ and register for a webinar that interests you or applies to your situation.
Finally, give National Closing Center a shot! If you currently have active short sales in early stages or if you're about to sign a Listing Agreement, please give us a call at (888) 830-8338 or email us at info@realtyrpox.com.
We have account executives standing by ready to walk you through our process and get you started. It's really very simple: initiate a new deal, provide us with basic docs via RealtyProx, and National Closing Center will take care of the rest!
Thank you for your business and we look forward to working with you!